REDESIGN YOUR ORGANIZATION
FOR SUCCESS!
Faced with continual transformational changes and more agile work teams, leaders now, more than ever, need INFLUENCE skills to CHANGE mindsets and behavior within their organizations to optimize productivity, create alignment, and help teams work better.
Influencer Training® teaches powerful strategies to create rapid, dramatic, and permanent change in your business, your personal life and your world. Using a proven and portable model of change to achieve rapid, sustainable and measurable change in behavior. The program will help you to:
IDENTIFY entrenched habits and crucial behaviors that, if changed, will lead to desired outcomes

DIAGNOSE the real causes behind behavior problems

effectively MOTIVATE and enable others, regardless of formal authority

develop behavior change STRATEGIES that yield rapid, lasting results
Many people from organizations like Toyota, Facebook, Nike, MTR 港鐵, AIA 友邦保險, CLP 中電 and Hospital Authority 醫院管理局 have gone through Influencer Training® and discovered how the powerful Influencer change model can equip them with skills that can make a huge difference to their professional and personal lives.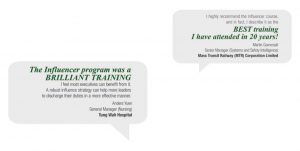 INFLUENCER TRAINING PUBLIC WORKSHOP
Monday 28 October 2019
9.30am to 6.30pm
Hong Kong Institute of Human Resource Management
Workshop fee:
HKD6,500 per participant
(HKIHRM member rate: HKD5,000 per participant)
Register now and enjoy 50% off for the second participant from the same company!
.
Course Outline
1. Learn why influence is one of the most powerful and important capacities you possess.
2. Clarify Measurable Results
3. Find Vital Behaviors
4. Diagnose Why Change Seems Impossible
5. Six Sources of Influence
6. How to Become an Influencer
 Facilitation will be in English. Each participation will receive a licensed training manual and a certificate of completion at the end of the workshop.  We regret that registration for this training program is not extended to independent trainers, consultants, coaches or agents.
To register for the Influencer Training® public workshop,
contact HKIHRM directly at (852) 2837 3812 
email: learning@hkihrm.org
visit the HKIHRM event page here
or  click the button below